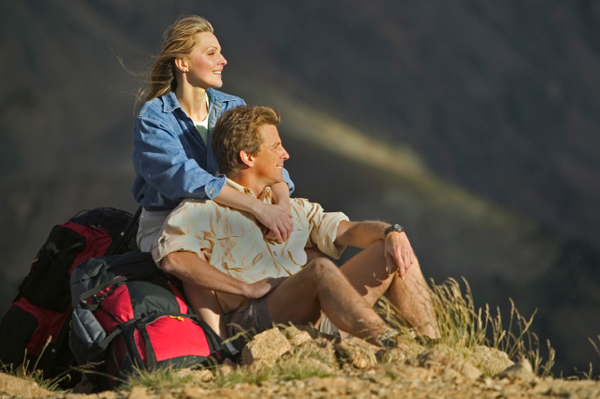 Awhile ago, the BF and I were out for dinner with friends. Single, unmarried friends. As always, the talk turned to marriage [I know, I'm full of it right now.] and the partial loss of individual freedom that comes as a downside to married life. They each said they wanted to do things, visit places before they got "Tied Down."

I remember feeling that way. Especially since the only tourist spots I've been to ever, is Hong Kong and that too since Dad was posted there and we were given 3 months school vacation due to the gulf war. [1989]. And a 5 day trip to Kerala in college. My better half has been around with his family. Thats something I've always wanted to do...And I mentioned my feelings to the BF in the initial days of our courtship...I said I wanted to go places, and he said " I want to be the one to take you to those places. Won't you have more fun with me around? I'll take care of you...I want to show you all kinds of fascinating things..."

That was the sweetest thing and I've never ever felt that I'd be tied down by marriage since he said this. I don't have a clue who the couple in this picture is, but they sure do look happy together. And He was right...with him taking care of me and showing me all over, I wont have to worry about things like keeping the tickets ready, not losing things, hotel reservations, carrying the lugguage etc...[I can see to other things]. But the point is, Two's company!

Admittedly we also decided that we'd give each other freedom for boy's/girl's nights out. Or for biking trips across the country with "guy" friends. That's ok too. As long as we manage to spend quality time together and with the family too. Everyone needs downtime. Too much time in each other's company can just drive one nuts eventually. Plus we'll need new things to talk about! Freedom...it's important. No doubt once kids arrive, and other family obligations too increase exponentially post marriage, we get tied down, a lot. But it's important to make time for yourself, alone and as a couple...otherwise you, and you both, will get lost and exhausted and will one day look in the mirror and not recognize yourself.