RAJAT :

The night Rajat came home and found Preksha missing was easily the scariest night of his life. There was no note, no indication of where she may have been. All he could find was a glass of half finished booze and a couple of sleeping pills. He rushed to the telephone and pressed redial. It was answered by the nurse on casualty duty at the nearby hospital. He asked if Preksha was there...and rushed over.

"Shes ok, she'll live, but shes shaken. We had to pump her stomach and that is a very stressful procedure, not just for the stomach. She'll be a bit woozy from whatever pills have taken effect but she will be fine eventually. All she needs is TLC. That and time and rest. And probably...a..um...Psychiatry consult...No need to think of it as a Taboo...," The Doctor rushed to explain seeing the mildly shocked expression on Rajat's face. " Sometimes we have problems and feelings we cannot deal with...if there's someone, who is far more experienced than ourselves, who can help us with our problems...its smart to get help. ", continued the Doctor.

TLC? What was that? It was probably on the prescription pad...the chemist would know for sure. He took Preksha home. They never talked about it. He didn't ask why and she didn't offer an explanation. He wasn't sure he wanted to know. She had stop thinking of him as her best friend long ago.

The next day she seemed cheerful. Neater, cleaner, more like her old self.

He always felt she was unhappy because of him. He spent one year trying to get her to fall in love with him...He always wondered if she felt she'd compromised in choosing him as a mate. She was so much better than him in so many ways. The day he convinced her to marry him, seemed like the best day of his life...correction, the day she married him was the best, he felt he could rest easy now. Breathe, heave a sigh of relief. Be himself...and not the modern version of Romeo that he'd become. He loved her, now they were together and wouldn't be apart for the next seven lifetimes...and if they kept repeating the same vows then for the rest of their rebirths! Ha!

He was not a romantically expressive guy. She was his first girlfriend. And his last. He was not unfaithful to her. He really loved her with all his heart. He just didn't know how to show it in any new ways anymore. He was all for giving her beautiful flowers, taking her on dates, making love till they were exhausted and couldn't keep their eyes open and their bodies were limp and relaxed...He did all he could to make her happy. But sometimes when they were out in public, and she took his hand, or linked her arm through his, he was uncomfortable. You never knew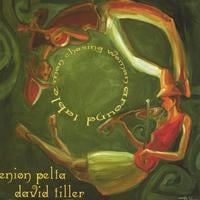 who would be watching. When they were in a group too, he never sat close to her, or touched her in anyway, or talked to her in a way that could be considered anything but friendly. No hint of the passion they shared in bed. It always upset her. She didn't understand his reticence. His extreme shyness. He wasn't half as bold as she was. Besides, what was the need to show the world what they meant to one another? What did the world care anyway? It didn't make a difference to him what couples world over were doing to each other in public.

Things changed after marriage. Managing a job, the house, their life...family...all got to him at the end of the day when he felt exhausted. And unable to stomach her statements of loneliness. Not that she mentioned it to him anymore. What was to be lonely about...? He hadn't gone anywhere had he? He wasn't leaving her for someone else, he wasn't cheating on her, he managed their finances well, he didn't curb her or restrict her in any way, certainly he didn't hit her! What did she want? He sometimes felt he had failed her. If it wasn't for the fact that he knew how big she was on integrity, he'd be worried about her leaving him.

She was a good wife. No doubt. Attentive to his every little need. Cooking food as per his tastes, tolerating his fussy nature, packing his tiffin. He had never asked her if she took a tiffin to work. He had no idea. She took care of his clothes, his family and his home. Of him. Laid out his clothes everyday for work, his shorts when he came home. Gave him his meds when he was sick, made his chicken soup when he had a cold, wiped his nose, cleaned his vomit. He brought home the groceries, the vegetables, set the table for dinner, helped with the cleaning, They had an equal marriage. The zing, the passion had diminished.

Didn't that happen eventually anyway? In any marriage?

He often worked weekends too and in any case, she was always either asleep or in the bathroom. He yearned for her touch, but now, sometimes, he was afraid of her. He was worried of touching her, only to see...withdrawal. He seemed to have caused too much pain. Let too many tears fall without making an effort to wipe them off. It was her, all her, why did she cry so damn much? Her tears caused him unbearable pain initially, but later...now...they only annoyed him. His heart seemed to have gone cold. There was a time when he heard her cry, he cried too. He used to catch her tears before they fell.

Now he just ignored them. Ignored her.

Of course he did hate himself later. For a bit. A short bit. What was the point then anyway? His harshness would only aggravate her sadness. He never knew the right thing to say at the right time. If you can't help something, don't aggravate it.

Of late she was happy. She was cheerful, even though he didn't get to see much of it being busy at work and even on weekends.

There were flowers at home. He didn't get them. She said she bought them to add a dash of colour to the house.

She hummed.

Rajat knew it wasn't him.

Was he losing her?

To whom?

Did it even matter? The whom? The where, when, how many times... what difference did it make anymore?

It was the why, that needed looking into.

He thought she couldn't live without him. turned out she had started a whole new life without him. She would leave him, not only far behind but for good. Could he live without her?

He hadn't considered it so far. Should he?

Could he win her back?